Careers
100 Hires Campaign for EcoZapp A/C Efficiency 
EcoZapp think's it's time the A/C service Industry Evolves…
& to do that we're needing about 100 people to build our teams in College Station and West Houston.
We have a goal of hiring 100 people!
We earned both a Rotary 10 and Aggie 100 awards in 2017 with the founders earning a recent SBA Young Entrepreneur of the Year Award for Houston
With the Expansion of our HVAC Operations and Energy Efficiency services we're looking for a variety to positions from techs to office.
Qualified positions can Apply for our Expansion Teams into new markets.
Are Ability to find Great People ensures our success- We're always looking for Great people
Must align with our culture and vision of being able to join us as we grow into a 100 person company focused of Evolving the A/C & Energy Efficiency industry.
Hiring primary for College Station, The Woodlands / West Houston.
We're looking for Techs who want to train to become Licensed Contractors.  We need a team of people to help us start new locations and we'll invest in your training to do so.
Positions listings
We'll be at the 2018 B/CS Job Fair April 26th 11-4 p.m.  @ the Hilton in College Station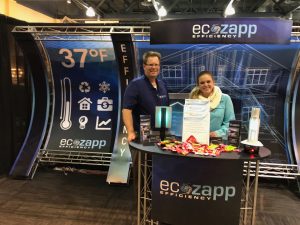 HVAC
Interns/ Training/ Helpers
Installers
Lead Installers
Techs
Lead Techs
Operation MGMT
Sales/ Efficiency Advisors
Energy Efficiency Auditors
Instructors / Educators
Quality Assurance MGMT
Shop/ Parts Runners
Office
Friendly / Helpful receptionists
Dispatchers
Customer Service Inbound
Inbound / Internet Sales
Follow-up Customer Service
Shop Upkeep/ Fleet MGMT
Office Managers
Executive Assistances / Meeting Organizer
Sales Assistances
Social Media / Digital
Errand Runners
Expanders
Managers
Sales Managers
Branch Managers
Subs/ Trades- Electrical, Foam, LED, Solar, Plumbing, Air Quality, HVAC
Subcontractors for :
HVAC
Foam Insulation
Electrians
Plumbers
Energy Auditors
Send us your Resume:
EcoZapp is always looking to add motivated individuals seeking to join a multiple award-winning team, whose values align with EcoZapp's.
If you're interested in more info on joining one of our teams,
Please send Resume with cover letter explaining your desired position with EcoZapp to support@ecozapphvac.com . ( please include last book you've read or listened to)